Okay, let's do this, Wednesday. I'm going to keep this short and sweet as I share my favorite things from the last month.
First up, this mug, mia mama got me for Christmas. Clear eyes, Full Hearts, Can't Lose. #TexasForever It's a Friday Night Lights thing. If you have never seen the show, boy, oh boy, you missed out (but it is on Netflix). Watch it asap. Have I led you astray yet? Saffron Avenue makes this one.
This throw my nonna got me for Christmas. I'm in love.  LOVE. Also I love my nonna because she has the best taste!
This concealer from Laura Mercier. Someone recommended it to me on twitter (I am so sorry I can't remember who) but I love it! P.S. If you buy from that link, I make a couple of cents but it doesn't affect your price. Also, you know, it's amazing. Bex tried it this weekend.
This lipstick Chels got me for Christmas. It's a red she said I would never buy myself. She is right but I love it. It's MAC Damn Glamorous, an apt name. I am wearing it in my vlog tomorrow. Don't even get me started on that. I am wincing.
I was so skeptical about Essential Oils but now I am on board. This one in particular has stopped me from getting the cold/sick several times this winter. Email me if you want to know more about Essential Oils. I am learning too but I will give it to you straight, girlfriend. Unless you are a man in which, I will give it to you straight, bro.

I'm linking up with Mia and Kelli, by the way. They are great!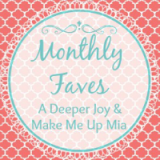 XO,
Visit the Peony Sponsor: