Bonjour, y'all! I am Brita (pronounced bree-tuh) from the Christian feminist lifestyle blog Belle Brita. Today I have two very important questions for you.
Are you a feminist? Why or why not?
As you probably guessed from the description of my blog, I identify as a feminist! Why am I a feminist?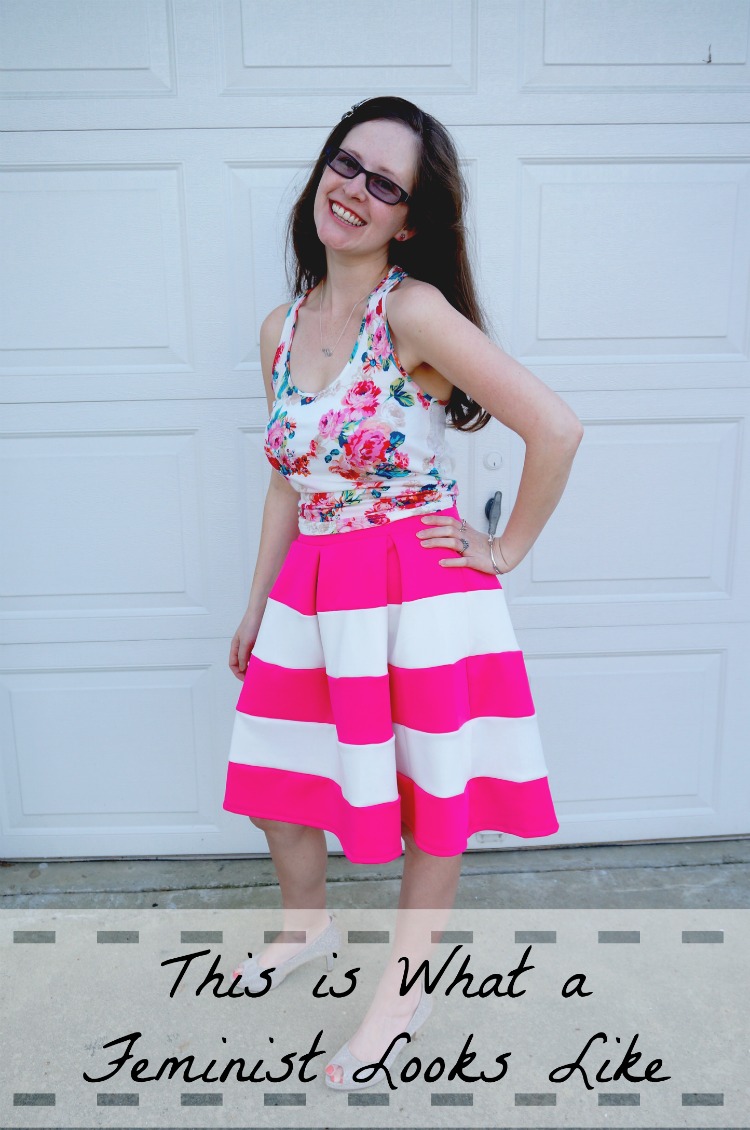 I'm a feminist because:
How do these relate to feminism?
Many churches do not ordain women. (If you want to read my college paper that provides both biblical and historical support for the ordination of women, let me know! I'll email it to you).
Interpretations of coverture laws meant that married women were often forced to change their last names until the 1970s.
Georgia almost passed a law that would allow discrimination against anyone who identifies as LGBTQ+, a law other states have already passed.
Women didn't get the right to vote until 1920 (and in practice, women of color still often lacked the right to vote for much longer).
Many prestigious colleges and universities used to only admit men. Comstock laws kept anyone from even sharing information on contraception, among other things. Women often couldn't get credit cards in their own names until 1974. People still call me a slut and a whore while blaming me for the thoughts of men because I wear a bikini in public places where people wear swimsuits. Oh, and they also say I'm not a Christian.
But maybe none of the above points apply to you. Maybe you're like one of the many people who have told me why they're not a feminist. Let's examine some of their reasons.
I'm not a feminist because…
Pink is my favorite color (Guess what! Pink is my favorite color too! I'm still a feminist).
I'm a Christian (Guess what! I'm a Christian AND a feminist! So are tons of other people).
I want to be a stay-at-home-mom (Guess what! You can be a feminist and stay at home with your kids! Just make sure you're making that choice because it's what you want to do, and not because you're pressured into it. Oh, and don't judge women who choose to be working moms or who choose not to have kids at all).
I submit to my husband (Guess what! You can make this decision for yourself. As long as you're not forcing it on anyone else, you can still be a feminist. I personally believe in mutual submission, but you do you).
I'm saving sex for marriage (Guess what! Sex-positive feminism is about empowering people to make the best decisions for themselves regarding sex. I didn't have coitus until I was married. I'm still a feminist).
I support what feminism did, but not feminism today (Uhhh, you're going to need to give me more information. Do you think it's okay that women experience street harassment? Do you think it's okay for men to rape their wives, or for anyone to be sexually assaulted? If not, those are both issues feminists are tackling today. Do you think it's okay for public schools to teach scientifically-inaccurate information regarding sex? If not, feminists are working on that. Do you think female students should able to speak in class as much as male students? Guess who is working on that… Do you think women who changed their names upon marriage shouldn't be allowed to vote? If not, feminists are working to change discriminatory voting laws. So tell me again what's the problem with feminism today?).
Do you agree with most of what I've written above, but you still don't want to call yourself a feminist?
That's okay! Feminists have bigger issues than trying to convince feminist-friendly people to embrace a label. Everyday Feminism put together a great comic that explains some of the reasons why you might be uncomfortable with the feminist label.
Just don't tell me that you'd be cool with feminism if it were called humanism. Humanism is already its own thing. Also, you know, if you're that turned off by the fem- preposition, then I assume you're interested in renaming everything with the root word man… right? Equality, right?
So.
Back to the first two questions.
Are you a feminist? Why or why not? Share your thoughts in the comments below!
P.S. If you're interested in a weekly-ish newsletter on feminism, sign up for Friday's The F-Word! If you prefer a more eclectic mix of sparkles, faith, relationship advice, feminism, travel, and pink, subscribe to my blog on Bloglovin!