This weekend I was reminded how temporary this life is and exactly how little control we have. I may be able to talk about it later this week but I just want to tell you, whether we have interacted a handful of times, we are blog friends, real life friends, family, or even if I don't know you actually read this blog, I am thankful for you. As ridiculous as it sounds, sometimes the most senseless things are what remind us to live each moment with purpose, loving God and loving one another.
I want to introduce you to three ladies who I see living purposefully (and blogging purposefully too). It's an honor to have them here. Really. 
1. My name is Kristyn and I blog at Chits & Giggles. I write about pretty much anything happening in my life including recipes, blogging tips, book reviews among anything else.
2. Who doesn't love a good beach. The beach is a place I go to when I need to recharge my batteries. I am thankful to be heading to a beach in a few weeks and I couldn't be more excited about it.
3. I attended Auburn University. I graduated in 2007 and I haven't stopped loving that school ever since. It truly helped to define me and led to one of my best friends.
4. On June 21, 2014, I married my best friend. It was a stormy day, but we were still able to have the wedding we always dreamed of. I couldn't have asked for a better wedding day and a better husband to share my life with.
5. This past Easter weekend was one of my favorites in history. We got to spend a ton of time with family, but we also got to go to the Atlanta Botanical Gardens…it was a great day.
6. Every year, my brother in laws family heads up to Cape Cod. We have been fortunate enough to go 2 years ago, and we will be back in June. I can't wait to get back to this house and relax up there.
7. There was once a time that we traveled to Puerto Rico. It has been our only time out of the country, but it was just too much fun! I loved that trip and I can't wait for many more great trips with that man.
8. This view will never get old. This is the view from our ceremony (taken May the year before) and it is one of my favorite views of all time. It will always hold a special place in my heart. The Ridges Resort is a beautiful place.
9. The Mumford and Sons concert was one of my favorite live shows we have seen together. Yes, we have seen quite a few concerts together.
Blog // Bloglovin // Twitter // Instagram // Pinterest // Facebook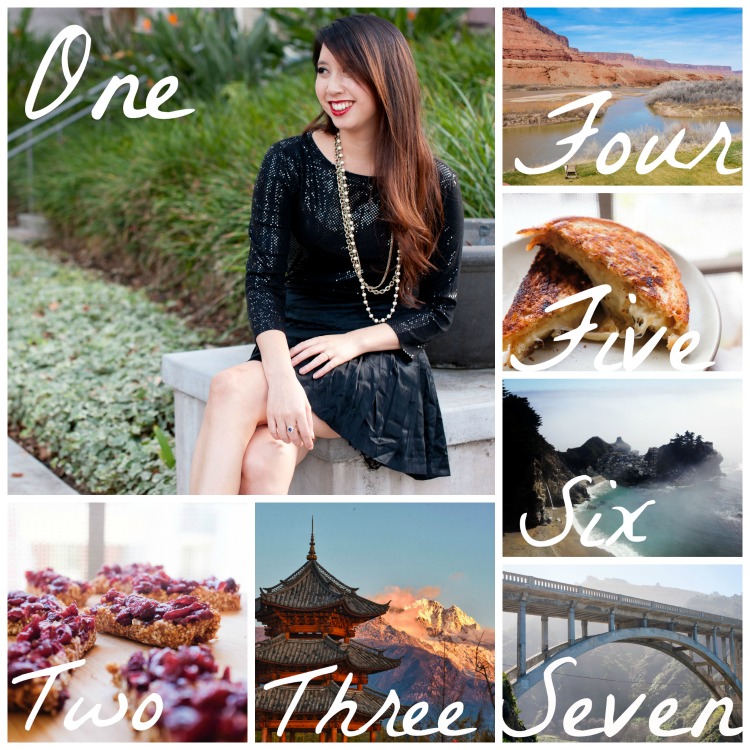 ONE. Hi everyone! My name is Daisy and I am a minimalist with a serious case of wanderlust. I blog over at Simplicity Relished, and I hope you'll come on over and say hello!
TWO. I'm a huge snacker, and I love making homemade yummies. A favorite is this 5-ingredient granola bar with steal-cut oats!
THREE. I love to travel, and a place that surprised me with its stunning beauty was Yunnan Province in China.
FOUR. Recently I was able to head to Utah where I explored the American Wild West as though it's still real.
FIVE. Do you love grilled cheese sandwiches? Here's how to make the BEST grilled cheese ever!
SIX. In case you haven't guessed it yet, I am a HUGE fan of traveling. Here are 4 reasons to travel more.
SEVEN. One of my favorite posts that I've written is on the topic of borrowing hope. Let's lend hope to those in need.
Find me here: Twitter // Pinterest // Instagram // Facebook// Bloglovin'

One. I'm Meagan, and I blog over at All the Joys, where I write about all kinds of things – family, friends, travel, and fun.
Two. Charlie is my first baby and loves to have his picture taken. He will pose forever to get the right shot!
Three. I have two girls, "E" and "A". I sometimes write about them, but you will never see pictures of them.
Four. I love to travel! We recently had an adults-only trip to the Virgin Islands, and I'm working on a series about my time studying abroad in Japan.
Go check out these blogs and get to know these ladies. They are fab!

    Visit the Peony Sponsor: